Contents
Interview with guitarist Gregor Hilden
Gregor Hilden from Münster combines hobby and occupation as an active guitarist and dealer of an online shop. The advice of his customers is very important to him as a musician. He does not give guitar lessons. Instead, he crashes into projects. Here he reports of his experiences.
Over tours, online trading and composing
"It has always been part of my work to run different projects with the same elans and fun in parallel. The priorities are often relocated. Currently, my organ trio project is in the first place because the last CD publication has taken place in this formation. This format has always been a wish of me, which I could only realize now. For twenty years, I dream of these constellation on the legs. That was because I was only able to discover the organist Wolfgang Roggenkamp for me before some time ago and inspired it for this project. Dirk brand sits on the drums, who has been playing for me for a long time and also involved in previous CDs."
Soul, Groove, Jazz and Blues
Hilden has always loved the special mix of Soul, Groove, Jazz and Blues, which is consistent in his music – a special feature that distinguishes his music and plates because he is musically not as strong as it may be other bluesmusic.
"I think it's great if someone makes a thing consistently good, but for me was always important to introduce different influences and creating my own sound. This is particularly well possible at the organ trio project, for example, because the organist is versed in different styles and can implement this taste and technically."
For a year, she has become more and more roles, this constellation.
And again new music projects
There are also other projects: Gregor Hilden is often booked for individual concerts and recordings and even shorter projects he often considers. There are new impressions.
"I'm addicted to experience new things in music. That keeps the thing fresh and lively for me. This was how the cooperation with the American singer Harriet Lewis was born. From time to time we make a club tour, just like next year in spring. This creates a new focus: vocals. My compositions are primarily instrumental."
Since 1996 he is committed to a label: Acoustic Music Record Osnabrück. It is guided by a guitarist, Peter finger. "That makes things very pleasant for me, because he is an internationally known acoustic guitarist."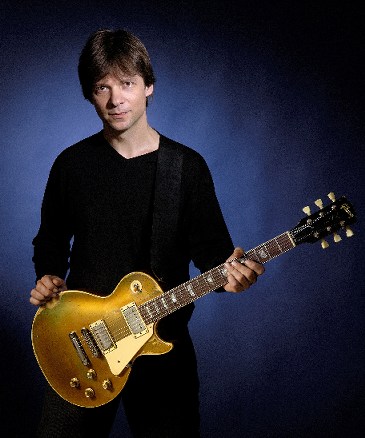 Tours by bus
If he tours, he usually travels with the band over two to three weeks in the bus.
"That's absolutely no work for me! I'm enjoying this. It's like a relaxing holiday. Often you have a few hours before the soundcheck to look at the cities. You get to know beautiful places that you might have not seen. We are mainly in Germany. Because my guitar shop is a pure web shop and is aligned in the shipping, I can control this job from other places. That gives me a lot of free space."
target group
The age group of Gregor's audience is primarily represented between 30 and 60 years. Especially lovers of handmade music can be found under his fans, so blues, soul and jazz horns. Fortunately, by concerts, radio, air-play, interviews and the internet generally, he gains new listener again and again.
In studio recordings it is important to help create something lasting and score a perfect product under this aspect.
"I'm perfectionist. I want a CD to sound outdated in 20 years. Besides, I am important to me, which you do not necessarily get live on the stage. You can easily conjure, arrange and play in the studio."
Improvisation in live performances
But also live performances enjoy Gregor: "If something spontaneously arises, the concert lives. Improvisation plays a major role in our concerts. Other emphasis, other dynamics and, of course, contact with the audience are factors that do not exist in the studio. The audience is also jointly responsible for how inspired a musician reacts on stage."
How does the songwriting work?
When he writes a song, he first moves in minimalist: "I take the guitar in the hand, develop a groundie and build this piece for piece and keep it up. First a rough scaffolding, then a chord sequence, a melody is tried and so on. It just happens through trial and improvise. Sometimes mathematics in the game, if I ask myself which scale leaders fits on certain chords. But that's just offsetting for me. I trust more like the feeling and my hearing."
He freely arranges foreign compositions: "The basic framework of this song must include something special, so I can bring him to my own kind. A nice example of the last plate organ trio is Per t'aime by Serge Gainsbourg, which we have interpreted in a bluesome style."