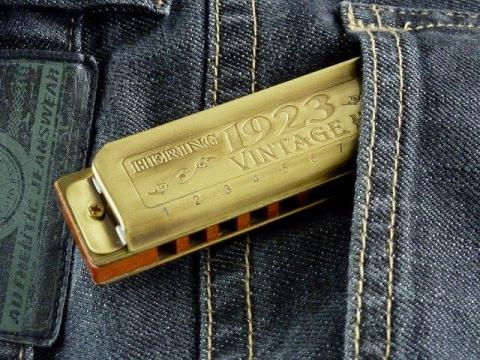 Richie Arndt travels to the Mississippi
Richie Arndt is on the road as a multiple German Blues Award winner in Germany and plays together with other musicians like Gregor Hilden and Kelly Rucker in different formations. Whether acoustics or blues rock – many genres have passed the eastwesting guitarist in meat and blood. However, in this special journey to the US, he fulfills a youth room: he flies together with the photographer Raphael Tschert in 2014 to the Mississippi and explores the roots of the blues.
Mississippi – a journey in the deep south of the USA
A travelogue with photos, individual, small videos, music and anecdotes create a nearly two-hour evening program. He is no longer fair to the song 'I Never Saw the Mississippi'. In his repertoire the song remains. So he exploits the roots of B.B. King, Johnny Cash and other legendary Sun Studio artists. In addition to numerous museums, of course, he also visits the Graceland estate. The Mississippi Binnendelta in Tennessee, Clarksdale, toez and New Orleans are more stations. He succeeds in the perfect balance between personal moments, general education information and impressions.
Not only the pictures ensure that you sweat suddenly even in the hot south of the USA on the cotton fields or the front Porck – the porch – some cotton picker huts. You do not know exactly how he makes it, but Richie pulls the audience in his spell. Maybe it's his loose, sympathetic and juvenile species that will make the musician a pleasant contemporary for at least two hours. Without falling into pure swarms, Richies jumps enthusiasm for the blues on the audience.
But the sweeping pages of historical conditions and facts illuminates Arndt unloaded and realistic. So he visits the Civil Rights Museum and deals with historical episodes such as breed separation and slavery. A red thread draws through the evening program when it depicts his guitar suitcase on all hotel beds in which he slept. His overnight establishments differ as strong as the areas he visited.
A special highlight is a moment in Ocean Springs on the Gulf Coast from Mississippi. No hotel room, but a whole hallway is provided to the traveler duo. After a short demand, if that is his correctness, he will declare that his reputation as a multiple German Blues Award winner has meanwhile even penetrated to the hotel holders. So you do not provide him less than the 'Love Me Tender Suite' by Elvis Presley. At the end of his journey, he knows what the song means: 'Do You Know What It Means to Miss New Orleans'. Solo works the song as well as on his plate in which he has engaged a band. Since 2014 he has always traveled to Mississippi, but his travel report remains unique.
Tour appointments and other interesting information about Richie Arndt can be found on the pages